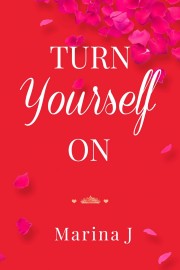 TURN YOURSELF ON is for you to get your fabulous back! After upset with him, with her, or with life - because your happiness is everything. This is your best friend and handbook for life by relationship expert, Marina J!
Denver, CO, January 18, 2016 (Newswire.com) - ​​​​​​​​​You know how it is… you feel like you're going through the motions most days - you're not depressed - but don't feel you have much to look forward to either.  No one knows it of course, but you feel it especially at night. You have a shelf full of self help books but everything you've done up until now has only taken you so far, you're still not in that life that's waiting for you. And you know there's greatness in you.
But how do you become the Queen of overcoming the icky to get there… easily? So you feel good with cherries on top? Especially when you're down in the dumps? And just after you've just had a massive argument with him? And especially when your sex life is… snore… what?
TURN YOURSELF ON is an Insightful, witty and well-written work.  With great relatable real world stories, practical advice and firmly grounded knowledge, Marina J nails it for women struggling to find their way to a healthy self again. After reading this book I'm ready to take my validation pill and get my Goddess on!

Kerri Zane, Emmy Award Winning TV Producer, Huffington Post Contributor, Single Mom Expert and Best-selling Author of It Takes All 5: A Single Mom's Guide to Finding the REAL One
When you're…
¥ Hurt or upset by what they just did to you
¥ Insecure because of what's been going on
¥ Angry with yourself for sabotaging yourself again
¥ Crap at asking for what you want
¥ Ready for a big fat change
¥ Ready to be utterly fabulous?
Open this book at the exact page you need; every page is overflowing with an opulence of gorgeous tools, ideas and techniques, that will support you daily – because your happiness is everything!
Relationship expert, best-selling co-author and speaker Marina J gorgeously guides you to turn on your sensuality, your self-love, and your ability to heal… deeply. And what to do when you're having a bad day?
TURN YOURSELF ON will put a rocket in those knickers of yours! You'll receive the confidence, and the glittery know-how to powerfully heal yourself back to fabulous – because for a woman like you? Nothing less will do!
Marina J teaches women one of the most important skills of all: How to get your fabulous back after upset with him, with her or with life - because your happiness is everything!  Her smart, uplifting and poignant approach will have you laughing, healing deeply and yes flourishing like the woman you were born to be! She does the deep stuff and the sparkly gorgeous stuff. A relationship expert, best selling co-author, speaker and coach, Marina has helped thousands of women around the world live the life they always knew they were meant to be in. And she wants this for you too. 
Marina J is the creator of The Turn Yourself On System: A powerful program for women who want fast, deep transformation and healing. Marina comes from a long family history of highly acclaimed psychotherapists, and authors and trained to become a life coach whilst being a single mum, with her work strongly founded in Jungian psychology. She loves to write regularly as a contributor to magazines, newspapers and websites and has been known to do the odd interview on TV and radio! She is married to the love of her life and lives with their daughter by the beach near Sydney, Australia. She can be found at www.MarinaJ.net
TURN YOURSELF ON is available on Amazon.com
For media & booking requests contact:
Marianne Pestana
Literary Publicist and Radio Show Host of Moments with Marianne on WMEX 1510AM Boston & Dreamvisions 7 Radio Network
303-945-6195
Share: