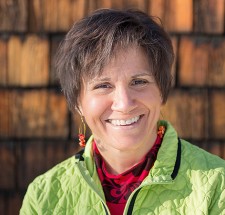 CARY, N.C., August 17, 2018 (Newswire.com) - Tune in this morning, Friday, Aug. 17 at 9 a.m. ET for Megyn Kelly TODAY and special guest Nancy Rynes, as they discuss her near death experience. Nancy Rynes is represented by publicist Marianne Pestana LLC.
As a scientist, science writer and corporate trainer for over two decades, Nancy aligned herself with the skepticism about spirituality that is prevalent in the scientific community. She remained an atheist until her life-changing bicycling accident in 2014, when a texting and distracted driver ran her over, almost ending her life. Nancy's Near Death Experience (NDE) was profound. As an atheist finding herself in Heaven, Nancy's dis-beliefs were shattered, and she returned with messages of love and compassion.
Today, Nancy is one of the leading voices for personalizing the wisdom of Near Death Experiences. With teachings from the other side on how to develop our heart-centered intuition, and tools on how to live a life of inspired creativity, Nancy teaches others how to live a more purposeful, joyful, and Heaven-inspired experience.
In Awakenings from the Light: 12 Life Lessons from a Near Death Experience, Nancy Rynes give an in-depth look into the extraordinary Near Death Experience that completely changed her life. Not just a tour guide to Heaven, Awakenings details the messages that Nancy received from the other side, messages that Nancy was asked to bring to others.
Nancy was gifted with a second chance – a precious opportunity to bring a little bit of Heaven into her life on Earth. The wisdom she passes on could well change your life as well.
Awakenings From The Light is available on Amazon and Barnes & Noble.
Nancy Rynes is represented by Marianne Pestana LLC
Source: Marianne Pestana LLC
Share: