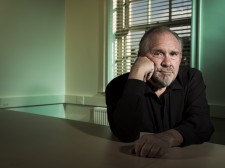 Visionaries, Spiritual Seekers, Adventurers & Bestselling Authors on Moments with Marianne Radio Show
Denver, CO, January 15, 2017 (Newswire.com) - ​​​​​​​​​​​​​​Join us on Sunday, January 15th at 8pm EST for a soul inspiring show on Moments with Marianne, with host Marianne Pestana as we talk with Dr. Larry Brilliant about his new book, Sometimes Brilliant, The Impossible Adventure of a Spiritual Seeker and Visionary Physician Who Helped Conquer the Worst Disease in History. Our next guests, Jeff Sanders will give us tips on how to dominate our day before breakfast and his book The 5am Miracle and Ryan Manion of The Travis Manion Foundation, will share how their organization empowers veterans and families of fallen heroes to develop character in future generations.
Moments with Marianne is heard at Dreamvisions 7 Radio Network & WMEX 1510AM Boston. Not in the Boston area? Click here on Sunday at 8pm EST to Listen LIVE: http://rdo.to/WMEX You can also catch show on Saturday, January 21st at 10am & 10pm EST by clicking here: http://rdo.to/DREAM7
Sometimes Brilliant is simply remarkable. Filled with inspiration and humor, Larry Brilliant's memoir chronicles his spiritual and professional journey that includes fighting for social justice in America and helping to eradicate smallpox in India. Sometimes Brilliant is a candid assessment of a tumultuous time and an insider's account of what can be achieved through the sheer force of a shared vision.

Sheryl Sandberg, COO OF Facebook and Bestselling Author of Lean In
Sometimes Brilliant with Larry Brilliant, M.D., M.P.H., is a pioneering physician, visionary technologist, and global philanthropist. A medical officer for the UN's World Health Organization and member of the Central Team in smallpox eradication in India, he was the first executive director of Google.org, One of Time Magazine's 100 Most Influential People and Winner of the TED Prize. Dr. Larry currently serves as chairman of Skoll Global Threats Fund. Larry co-founded the The Seva Foundation, whose programs and partners have restored sight to more than four million blind in dozens of countries. He has worked with four Presidents, the UN, G8 and Chaired the National Biosurveillance Advisory Subcommittee. He co-founded one of the first digital social networks, the Well. http://www.larrybrilliant.com
The Travis Manion Foundation with Ryan Manion
​Ryan Manion has dedicated her life to supporting our nation's military, veterans, and families of fallen heroes. She is inspired by the character, leadership, and sacrifice of her brother 1st Lt. Travis Manion, USMC, who made the ultimate sacrifice in the Al Anbar province of Iraq while drawing fire away from his wounded comrades on April 29th, 2007. Serving as the President of the Travis Manion Foundation since 2012, Ryan leads a national movement focused on assisting veterans and families of the fallen to take the next step in their personal journeys, and inspiring the next generation of leaders. http://www.travismanion.org
Moments with Marianne is heard at Dreamvisions 7 Radio Network & WMEX 1510AM Boston. Click here on to Listen LIVE every Thursday and Friday at 5am & 5pm EST, and every third Saturday at 10am & 10pm EST: http://rdo.to/DREAM7
Invincible Living with Guru Jagat
​Guru Jagat is the youngest senior Kundalini Yoga teacher in the world and the face of the new Kundalini movement. She is the founder of RA MA Institute for Applied Yogic Science and Technology, a premiere Yogic institute with locations in Venice, California and Palma de Mallorca, Spain. Guru Jagat's other entrepreneurial pursuits include RA MA TV, the "Netflix" of Kundalini Yoga, and her record label RA MA Records. Her first book, Invincible Living, was released January 2017 by HarperElixir, an imprint of HarperCollins. http://www.gurujagat.com
Yoga Beyond the Mat with Alanna Kaivalya
​Alanna Kaivalya believes yoga is for everyone and each student can develop the self-empowerment needed to embark on a personal journey to meaningful transformation. She founded The Kaivalya Yoga Method, a fresh take on yoga emphasizing the individual path while honoring tradition. She has taught students and teachers since 2001 and has developed teacher trainings for top studios worldwide. In January, Alanna debuted a comprehensive online teacher training program with YogaDownload. She has written Myths of the Asanas (Mandala, 2010) and Sacred Sound (New World Library, 2014), Yoga Beyond the Mat (Llewellyn 2016) and holds a Ph.D. in mythological studies, with an emphasis in depth psychology, from Pacifica Graduate Institute. http://alannak.com
In a single moment, your life can change! "Moments with Marianne" is a transformative hour that covers an endless array of topics with the 'best of the best.' Her guests are leaders in their fields, ranging from inspirational authors, top industry leaders, business and spiritual entrepreneurs. Each guest is gifted, and a true visionary! A recognized leader in her own work, and while teaching others to develop, refocus, and grow; Marianne will bring the best guest, and sometimes a special surprise. Don't miss this – you never know just which 'moment' will change your life forever.
​To learn more about Moments with Marianne and upcoming show guests, visit www.MomentsWithMarianne.com
Source: Marianne Pestana
Share: