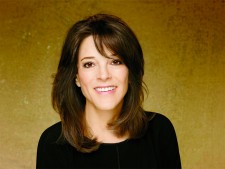 Denver, CO, August 1, 2016 (Newswire.com) - ​​​​​​​​​​​​​​​​​Tune in Sunday, August 14th at 8:00pm EDT & Saturday, August 20th at 10am & 10pm EDT for Tears to Triumph with Marianne Williamson and Why Do We Hurt with Judy Goodman on Moments With Marianne at Dreamvisions 7 Radio Network & WMEX 1510AM Boston.
Marianne Williamson is an internationally acclaimed spiritual author and lecturer. Marianne has been a popular guest on television programs such as Oprah, Larry King Live, Good Morning America, Charlie Rose & Bill Maher. Seven of her twelve published books have been New York Times Best Sellers, including her newly released book Tears to Triumph: The Spiritual Journey from Suffering to Enlightenment.
"Of all of the things that we must endure, pain is the most cruel"

Judy Goodman, CPC, CSRC, CRC
In Tears to Triumph, Marianne argues that we—as a culture and as individuals—have learned to avoid facing pain. By doing so, we are neglecting the spiritual work of healing.
As Marianne makes clear, true healing and transcendence can only come when we finally face our pain and wrestle with what it has to teach us. Written with warm compassion and profound wisdom, Tears to Triumph offers us a powerful way forward through the pain, to a deeper awareness of our feelings, our lives, and our true selves.
Internationally recognized, Judy Goodman, CPC, CSRC, CRC may possibly be one of the most gifted teachers, and motivational speakers today. Her access to the workings of the physical world and 'the other side' is absolutely amazing. She works and teaches without the limits usually associated with the most talented. A 'go-to person' for many people! Born with a gift of seeing beyond the ordinary view of most people, Judy teaches 'beyond conventional wisdom.' She may be without peer in her experience of the events and workings of the physical and spiritual realms. This extraordinary combination of gifts is very unique.
Judy's real jobs kept her in a professional, high-profile, position much of her life. At one point she was involved in negotiations between Russia and The United States regarding an aircraft of the future. Some time ago she made a decision to give up the 'regular job' and commit 100% of her time to her path in this life. She is the subject of an award winning book, has appeared on radio and television all over the country and is the author of the award winning audiobook Journey... The Quest of the Soul.
A trained Hypnotherapist, Judy has worked with cases dealing with almost every trauma of life. She has helped people through childhood issues, regressions and major imprinting that is holding them back. Born with a gift of seeing, and knowing, Judy has walked in two worlds since the day of her birth.
"My work in this life is not meant to affect or change the religious perspective of any person, only to help them be the best they can be in their own path." Judy addresses complex issues in a down-to-earth manner. Someone in tune with the soul's purpose, providing truths beyond the limits of conventional wisdom. She teaches about the pain of your life, the purpose of your journey.
Journey... The Quest of the Soul answers such questions as; How do I fit in, why am I here, and how do things work? Is there more to my life than what I am experiencing now? Judy's audiobook is over four hours long, and is filled with compiled knowledge that may be found in limited places. No matter what your own journey is like, gaining this depth of knowledge might answer questions you didn't know how to ask. When you learn at this level, sometimes there is great peace, sometimes you will experience other doors opening up for you. Some people have been moved to tears; some have found the information life changing. What most people agree on is that Judy's knowledge, and teachings, are beyond conventional wisdom!
To learn more about Judy Goodman visit: www.JudyGoodman.com
In a single moment your life can change! "Moments with Marianne" is a transformative hour that covers an endless array of topics with the 'best of the best.' Her guest are leaders in their fields, ranging from inspirational authors, top industry leaders, business and spiritual entrepreneurs. Each guest is gifted, and a true visionary! A recognized leader in her own work, and while teaching others to develop, refocus, and grow; Marianne will bring the best guest, and sometimes a special surprise. Don't miss this – you never know just which 'moment' will change your life forever.
Not in the Boston area? Click here to listen to the Live show on Sunday, August 14th at 8:00pm EDT http://rdo.to/WMEX
Catch the replay at Dreamvisions 7 Radio Network on Saturday, August 20th at 10am & 10pm EDT by clicking here: http://rdo.to/DREAM7
Source: Marianne Pestana LLC
Share: