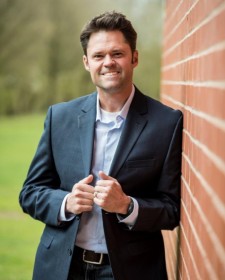 DENVER, August 27, 2017 (Newswire.com) - Tune in for an inspiring show on Moments with Marianne with special guests Justin Osmond as we discuss his book Hearing With My Heart, followed by a discussion with author and award-winning journalist Lauren Lipton as we talk about her new book Yoga Bodies!
Click here to listen http://tinyurl.com/MwMShow or download the Moments with Marianne app on iTunes & Google Play!
Hearing With My Heart with Justin Osmond
Justin has led an extraordinary life and found himself learning vital lessons from his unique circumstances. Growing up with a 90 percent hearing loss is hard for anyone, but being the son of Merrill Osmond, the lead singer of the world-renowned Osmond Family, made deafness an even bigger challenge for him.
After 12 years of intense speech and listening therapy, Justin can now speak with passion and through modern-day technology, hear with conviction. Considering the fact that he was a couple years behind his peers, he has shown through intense dedication, mental toughness and physical exertion, that nothing can stop him from going after his dreams. Having shared the spotlight with the likes of Kevin Costner, Oprah, Billy Crystal, Garth Brooks, Susan Boyle and many other distinguished and respectable individuals, Justin's unique style inspires and motivates his audiences. http://www.justinosmond.com
Yoga Bodies: Real People, Real Stories and the Power of Transformation with Lauren Lipton
Lauren Lipton is a yoga devotee and an award-winning journalist who covers wellness, style, and trends. Her work has appeared in the New York Times, the Wall Street Journal, Allure, and Town & Country, among other publications. Her book Yoga Bodies a collection of interviews with yogis of all shapes and skill levels, with photographs by Jaimie Baird. www.laurenlipton.com
For more show information visit: www.MomentswithMarianne.com
Source: Marianne Pestana LLC
Share: