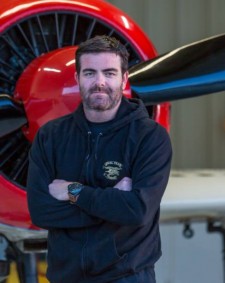 Denver, CO, September 1, 2017 (Newswire.com) - Tune in Friday, September 1st at 5pm PST/8pm EST for an inspiring show on Moments with Marianne with special guests former Navy Seal and New York Times Bestselling Authors Brandon Webb & John David Mann as they discuss their new book Total Focus: Make Better Decisions Under Pressure.
Moments with Marianne is now on iHeart Radio! Click here to listen LIVE on Friday, September 1st at 5pm PST/8pm EST http://tinyurl.com/iHeartRadioMwM OR download the Moments with Marianne app on iTunes & Google Play!
"What an incredible ride! Watching as a former Navy SEAL sniper approaches the challenges and complexities in growing from start-up to $100 million-plus in five short years is a master class in business and leadership."

David Bach, author of The Automatic Millionaire and Start Late, Finish Rich
Brandon Webb is a former US Navy SEAL sniper, New York Times bestselling author, Experimental aircraft pilot, and entrepreneur. He's the founder of the Hurricane Group, a U.S. based media and ecommerce company focusing on outdoor, military entertainment, news, and clubs.
Brandon is a New York Times bestselling author, and is regularly featured in international media as a military and Special Operations subject matter expert. He has contributed to ABC's Good Morning America, NBC's Today Show, FOX news, CNN, the BBC, SIRIUS XM, MSNBC, and The New York Times. http://brandontylerwebb.com
John David Mann is an award-winning author whose writings have earned the Nautilus Award, the Axiom Business Book Award (Gold Medal), and Taiwan's Golden Book Award for Innovation; his books are published in more than two dozen languages and have sold more than 2 million copies. John is co-author of the international bestseller "The Go-Giver" with Bob Burg, the New York Times bestsellers "The Red Circle" with Brandon Webb and "Flash Foresight" with Daniel Burrus and the national bestsellers "The Slight Edge" (with Jeff Olson), "Among Heroes" (with Brandon Webb), and "Real Leadership" (with John Addison). His "Take the Lead" (with Betsy Myers) was named Best Leadership Book of 2011 by Tom Peters and the Washington Post.
For more show information visit www.MomentswithMarianne.com
Source: Marianne Pestana LLC
Share: