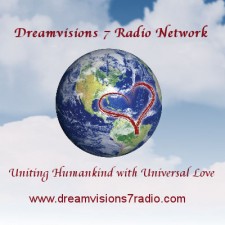 Denver, CO, April 26, 2017 (Newswire.com) - Dreamvisions 7 Radio Network, a Holistic Boston-based syndicated Internet Radio with radio station affiliates both Terrestrial and Internet, is thrilled to announce their media partnership with Omega. Deborah Beauvais, Founder and Owner of D7RN, is pleased to share that Omega will be represented on the entire Network, both in workshops and presenters, as well as online classes and audio commercials. Listen for special discounts.
www.dreamvisions7radio.com Listen: http://rdo.to/DREAM7 or with Apps
When we hold Healing LOVE, we are utilizing what our Source intended for us. Once we collectively believe this ability to be true, the whole world changes.

Deborah Beauvais, CEO & Host at Dreamvisions 7 Radio Network
Tune in for special radio presentations with John Holland, Anita Moorjani, Dr. Jamie Turndorf aka Dr Love, Dr Brian Weiss, Byron Katie, Tony Stockwell, Donna Eden and many more.
The mission of the Station is to facilitate the enlightenment of humankind by providing a platform for holistic and healing programs that educate listeners, bringing them conscious awareness of their inner light so that ever-growing numbers of people may learn to live with joy, love, peace and ease.
Since 1977, Omega has served as a gathering place for great thinkers, creative talent, spiritual teachers, and social visionaries. From nurturing early dialogues on the integration of modern medicine and natural healing to designing programs that connect science, spirituality, and creativity, Omega has grown into one of the largest and most trusted centers for lifelong learning today. As a nonprofit organization, Omega is committed to an integrated approach to personal growth and social change. Located on 250 acres in the beautiful Hudson Valley, Omega welcomes more than 500 teachers and 23,000 people annually to its workshops, conferences, and retreats in Rhinebeck, New York, and at adjunct locations. Omega is expanding access to online learning opportunities to serve a growing global community of 2 million unique visitors per year at eOmega.org.
Contact
Deborah Beauvais, Owner
​Dreamvisions 7 Radio Network
508-226-1723 Office
Deborah@dreamvisions7radio.com
Source: Dreamvisions 7 Radio Network
Share: