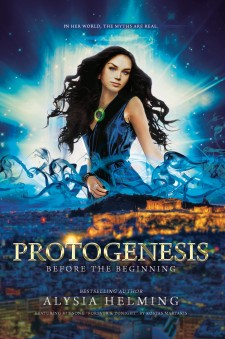 SAN FRANCISCO, March 29, 2018 (Newswire.com) - Wonder Woman and Harry Potter ushered in a new era! "Protogenesis" expands the horizon even further. Early reviews suggest extraordinary critic acclaim. 
In "Protogenesis," cultural fiction and ancient mythology converge in modern-day Greece. The novel follows Helene, an American teenage girl whose entire life is thrown into disarray when her mother suddenly disappears. She moves to Greece to live with a relative and must navigate how to fit in her new life and transform into the powerful woman she is. Here, she faces all the usual travails of being a teenager: adjusting to a new school, learning and fitting into a new culture, and navigating her love life. While investigating her mother's disappearance, Helene discovers a portal to another world, where Greek mythology comes to life.
Over 500 people in Greece have contributed to the author's research for the "Protogenesis" novel, including renowned Greek archaeologists, cultural and mythology experts, and the American School of Classical Studies in Athens.
Due to the overwhelming response in Greece, "Protogenesis" has been selected to be featured in the United Nations' (UNESCO) 2018 World Book Capital Event in Athens.
Alysia Helming is an American novelist and the best-selling author of the "Protogenesis" Book Series. She is President of "Protogenesis" Media and Executive Producer of the short film series Footsteps in Athens which bring to life a selection of the book's most intriguing scenes showcasing real-life experiences in Greece. Alysia is also the Executive Producer of Meet Me In Greece, an American reality-based TV series which is currently under contract with a major Hollywood studio.
With her extensive business background in renewable energy, Helming currently serves on the Board of Pristine Sun and has over 25 years' experience as CFO to four companies. She provides internal and external advisory services to CFOs & CEOs for Fortune 500, including Jacuzzi, Bushnell, Wells Fargo, Hallmark Cards, DST Systems and Exelon.
Kostas Martakis is an award-winning Platinum Greek Recording Artist, Model, Television Star, and Actor.  Kostas was named by E! Entertainment as one of the "25 Most Sexy Men in the World", they described him as a "Greek God." Kostas's new hit single "Forever & Tonight" was written for the book "Protogenesis," for its release in the United States. Featuring dance by Jennifer Stahl, Principal Dancer of the San Francisco Ballet.
Advance Praise
"This book bridges Greek & American communities with creativity, fantasy and a strong woman main character who learns what she's really made of." - Aly Walansky, Lifestyle Journalist & Contributor to Today, Popsugar & Women's Health
"...a thrilling story full of plot twists and turns..." - Children's Book Review
"A fascinating story of love, adventure, and mystery, all twirled up in a world where fiction meets reality." - Kostas Martakis, Platinum Recording Greek Artist
Helming intelligently sets figures from Greek myth amid the modern-day Greek debt crisis to comment on greed, hubris, and how ordinary people survive. She offers complexity of detail and adventure with intriguing tie-ins to mythology and science. - Kirkus Review
"It kept my curiosity and imagination guessing all while giving an authentic and knowledgeable representation of Greek culture and mythology!" - Jennifer Stahl, Principal Ballerina of San Francisco Ballet Company
Source: Alysia Helming
Share: