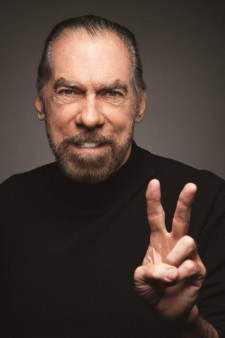 Aubio Life-Sciences™ with John Paul DeJoria on Moments with Marianne at WMEX 1510AM Boston & Dreamvisions 7 Radio Network. Friday, June 17th at 5am & 5pm EDT & Thursday, June 23rd at 5am & 5pm EDT
Denver, CO, June 15, 2016 (Newswire.com) - John Paul DeJoria's new company Aubío is based on the science discovered around the carnivorous plant species that has been in existence for thousands of years, and is the only planet species that needs to eat to survive.
Aubío Life Sciences™ www.aubio.com, is a unique life-science company is on an amazing mission. Right out of the book of a sci-fi movie Aubio a new company created to deliver skin care products based on their proprietary plant technology, announced that their flagship products, Aubío for Cold Sore Treatment Gel is being made available nationwide at retailers such as Target and on Amazon this month.
"Success unshared is failure."

John Paul DeJoria
John Paul DeJoria, best known as the co-founder of the Paul Mitchell line of hair products and The Patrón Spirits Company states, " I have always been intrigued with the power of nature and the science on the carnivorous plant that is the backbone of Aubio Life Sciences, helps restore skin to health effectively."
Academic and company research has found that the plant will have multiple roles for cosmetic, OTC and even prescription products. The company is in process of generating a broad patent portfolio demonstrating how the technology.
Aubío Life Sciences proprietary formulas are all made in the U.S. and have the highest standard for quality (cGMP, FDA Registered manufacturing facilities), to ensure 100% safety in the discovery, development and manufacture of natural skin care products.
Join us for the discussion about Aubio Life-Sciences™ with John Paul DeJoria on Moments with Marianne at WMEX 1510AM Boston & Dreamvisions 7 Radio Network. Friday, June 17th at 5am & 5pm EDT & Thursday, June 23rd at 5am & 5pm EDT
Tune in to listen LIVE at 5am & 5pm EDT! http://rdo.to/DREAM7
Source: Marianne Pestana LLC
Share: